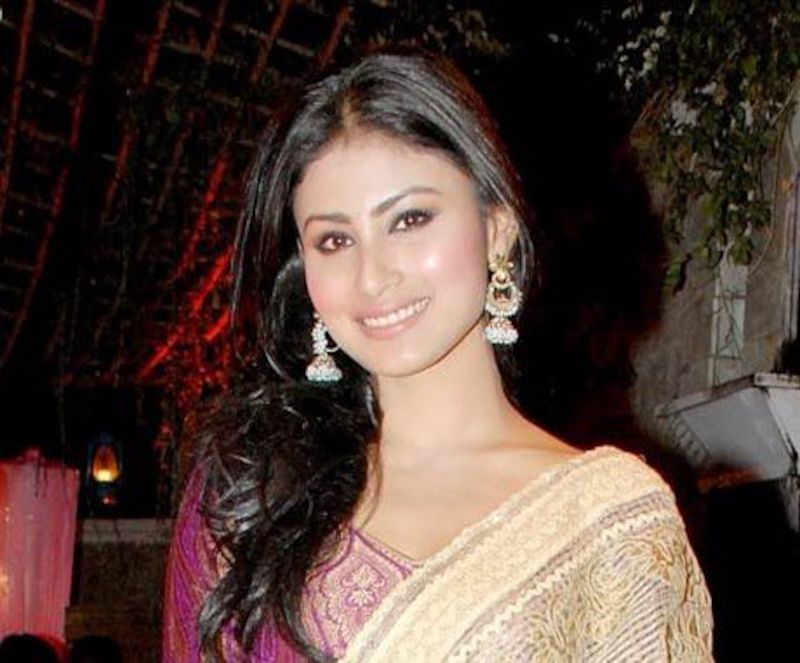 Mouni Roy The Sexy Naagin of small screen is one of the most gorgeous and famous faces on Indian television. She is most known for her sweet smile and amazing classical dance. I have been thinking about writing a story on her ever since I saw her in TV serial Naagin. Now before I begin, This story is just a work of my imagination and doesn't mean to hurt anyone's feelings. Now coming back to the story.

My name is Ishaan, a 20years old college student from Cooch Behar, West Bengal, India. I have a small family consisting of Me, elder sister Mouni, mom and dad. My father is a office superintendent and mom is a high school teacher so they barely get the time to stay home with us. As we were often alone at home, Di and I grow very close to each other more closer than any other brother and sister.
Mouni di is a very beautiful girl. She 24years old and had a curvaceous figure (34B-24 waist-36 hips) that can make any man's dream wet. Her curvaceous figure is the result of her dancing career. She is a very good dancer. Her voluptuous boobs and fleshy round buttocks, with a slender neck just like a gander, She gorgeous and a complete diva, but likes to keep it natural when it comes to her make up.
Everything about Mouni di is mesmerizing. Her round face, eyes like that of peacock, long eyelashes. Jade black hairs coming down till middle of her back.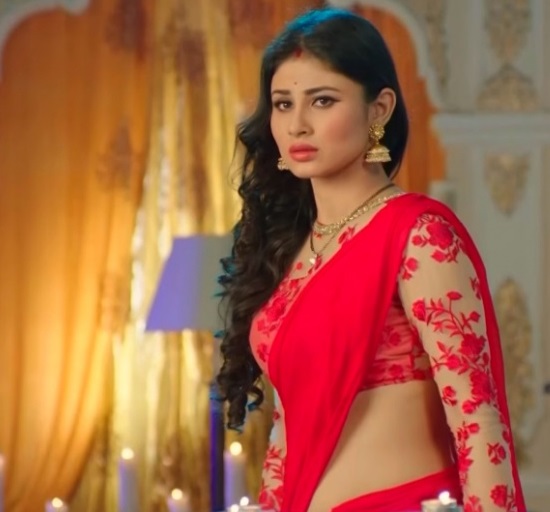 Mouni di is a like a sculpted Aphrodite cut out of butter. Di and I were very frank and free among us. We used to make playful cuddles and stole kisses on cheeks among ourselves.On that eventful day, mom and dad was away leaving only Mouni di to take care of me. On any other normal day, she used to wear either salwar or dresses that covered most of her beautiful figure. On that very fateful evening she wore a white dress which came down up to her beautiful buttocks. Her long slender legs and fleshy milky thighs were left to be devoured by my lust full eyes.

The dress could not conceal her beautiful soft boobs, and most of her cleavage was displayed. I was sure that there was no bra underneath that dress as the nipples were protruding out, outlined clear on the fabric leaving a lustful impression on the shirt. While she walked her buttocks swayed sideways and the panty was quiet visible. She wore a skimpy blue colored panty which was only covering her crotch and every inch of her fleshy buttocks were outside her panty covered by her dress. She walked up the hall stood near the window facing outside enjoying the rain splash while sipping a cup of cofee.
I was sitting on the couch of the hall watching TV, but the sight of my sister made my head a spin. May be the wet fragrance of the earth has made her mad. With the corner of her eyes she was smiling at me.

She went on sipping the cup of coffee. Resting on the window with her figure bend forwards made her buttocks protrude outside. The sight of her beautiful round fleshy buttocks with nothing on it just was enough to make my prick stand as a pole inside my pant.
Mouni di called up – "What up Ishaan? What are you looking at?"
I was feeling dizzy with all these sexy sightings. Could not mutter any thing, just fumbled and searching for some words to say.
"You are looking too beautiful and gorgeous in this dress Di" – I muttered something.
Saying so I walked up behind her and placed my hand on her waist.
As if she was anticipating my move.
She turned towards me, and put her arms around my shoulder, left the cup to drop on the floor and pressed her whole length of her body on me.
The cup crashed on the floor in some hundreds pieces.
I hold her tightly in my arms around her waist, pulled her towards me flattening her fleshy boobs on my chest. I could feel her hard nipples, the only thing that now separating us was that dress.
We both looked into each other eyes deeply.
Mouni di told – "Do you actually know, that many boys could do anything to be in this position as you are standing now?"
"What all they can do ?? –"
She said that she has given no one a single chance to hold her like this.
"So do you think I am a lucky boy" – I said.
"No you are not lucky, you are my little brother with whom I share my deepest secrets and fantasies" — Mouni giggled.
"Do you love me" I muttered. –
"Yeah dear , I do love you both as a brother and my lover" – Mouni said, "don't you want to kiss your beautiful sister?"
"Yeah yeah sure I do" — Saying so I lowered my lips on her lips sweet like rose petals, soft as butter. Bit her lower lip and started chewing
Her eyes closed, she lashed out her tongue inside my mouth. Our breath increased.
All this time, her hands clutched my hairs pulling my head more and more towards her as if the kiss sould never end.
My right hand pulled her more and more towards me, as if I want her to melt inside me, while my left hand went on her fleshy round buttocks, kneading her flesh and caressing all over. The silky smooth skin on my palms made me more mad and mad.
She broke the kiss suddenly – "Are you going to kiss me the whole evening? "
"Not actually Di, I am unable to control the sight of your beautiful figure."
With one jerk I pulled her on my lap and carried to the couch.
I sat on the couch and made Di to sit on my lap facing me.
Both of her legs on either side of my legs. Her panty covered mound just centimeters away from my hard prick which was inside my pants trying to free himself. Her boobs in front of my eyes.
I could smell her fragrance of sex oozing out of her body.
Again we kissed.
Now I started with her earlobes and nape, leaving a wet trail of saliva on her skin with my tongue.
Her breathing just got hotter, pouring down on my cheeks and neck as hot lava.
Both of my hands were roaming on her back, caressing her back riff and her smooth skin.
She was purring down my ears all time in her husky voice with uhhhsss … and aahhhhss … and ssshhhh …..
"You are making my body feel tingling. I am feeling hot and some thing is happening down my loins , I am a virgin dear Ishaan, you have to treat me like a rose bud" – Mouni di purred in my ears.
"So am I di, you naughty girl, you have made me hot and hard like hell."
Saying that I pushed my pant covered prick on her panty covered pussy.
As my shaft touched my sister mouni love hole, she pressed her crotch on my tool. She started moving her panty covered pussy lips on my tool as if she tried to feel the length and the hardness before she actually wanted to take the tool inside her love box.
"Ohh dear – is that hardness is for me only little brother? Is that pole eager to be my play tool? – "
Di's sexy purring of all these nonsense was making me more and more hard.
I brought my hands between us, removed her dress and without wasting anytime throw it away.
I could not take my eyes of those soft boobs that was adorned with brown hard nipples, and around those nipples were brown areolas.
"Ohh Di what a pair of round boobs you have got, so soft and so smooth. See the nipples are hard inviting me to chew them and fondle the roundness and fullness of the beauty you have. See how hard it is becoming and the brown areolas making your milky boobs more and more beautiful."
I put my mouth on her right boobs, took the nipple between my teeth and started chewing and sucking, while my left hand went down to her buttock trying to get rid of the silk cloth which was covering her love box.
She thrusted her boobs more and more on my face, so that I could take more of her flesh in my mouth and chew her nipples well enough. She arched back in ecstasy and started bouncing. With moans of pleasure coming out of those sweet lips.
"Ohh Ishaan, suck them Ishaan, my nipples are all yours, my boobs are all yours to taste, show me love, make me a lady my brother ……Maul me with your hands like a mad dog."
Di's words making my dick more hard.
I left her nipple and pulled her again to kiss her lips.
"Yes di, I am here for you, to make you a full lady, to share your secrets and to take the fruit of your hymen that is still unattended for many years."
Saying this I made her to sit on the couch.
Di opened her legs and I kneeled down between her open thighs.
Put my hands around her waist and again came heavily on her boobs.
This time both my hands mauling and pressing the flesh of her boobs tweaking the nipples with my fingers."Ohhh .. you are such a darling baby to me…."
My face reached the panty, I smelled the moist odour oozing out of her love box. Her panty was already soaked with juices that was oozing out of her pussy.
I smelled the panty covered pussy and gave a little kiss on her pussy lips over the skimpy panty which was by then drenched in her juices and outlined her pussy lips clearly leaving nothing to imagine.
Uuu….. was the sound that came out of those rosy lips. "Do it to me, do not tease me more. You jerk do it to me, tear down my body and do all what you can with me, I am here for you only dear…"
I slowly started caressing her inner thighs, her smooth satin skin felt like anything. I pushed my hand under the waist band of her panties and sliding my hand on her creamy thighs. Mouni di was now nude infront of me.
Her pussy lips swollen red, clean shaved,"Ohhh my god, you are more beautiful without clothes dear, the sight of the pussy is so amazing that I will die now." I stood up and lowered down my pants as Mouni di laid on the couch in anticipation, my cock spranged out like a hungry anaconda freed on to open field. Mouni Di'seyes bulged as she said," Oh!! My goodness, Ishaan,It's so big. No, no it won't fit inside my little pussy?"
"Relax Di, I will never force you to do anything you don't like. We can stop right here if you want, you're one who matters most to me."

Tears rolled down from Mouni Di's eyes as I said that. She got up from the couch and hugged me"Oh, Ishaan! Nobody can love me more than you do, you care so much about me. I will be complete without you, I will do anything you like Ishaan. My sweet brother".
I was on cloud nine after hearing this, Di kissed me on my lips before she broke the hug. Mouni di got down to her knees and started to stroke my cock in her soft hand running her finger up back and forth on my shaft. Di moved her hand to my balls and gently caressed them. Mouni was also kissing my dick between her stroke, just she I thought that it can't get any better, I felt her tongue touching the undersides of my cock.
she licked my hard shaft, then she caressed my cock with her lips. I never felt this good in my life, my beautiful sister Mouni was on her knee completely nude in front of me, her little brother as she licked my cock from head to root and then back to head. She opened her mouth wide as she slowly takes my cock in her mouth. " Oh, God! Di you're making me go crazy" it was heaven for me as I felt her warm and soft lips around my shaft. I felt my cock growing harder and bigger as her tongue moved along my shaft.
Mouni Di moved her head back and forth sucking as much of my cock into her throat. The rhythmic sucking and milking of her soft velvety mouth made my dick even more hard. I subconsciously started to move my hips as I was getting too much aroused at the fact that the girl who was sucking my cock was my own elder sister Mouni. her eyes were open and she was directly looking in to mine.
"Oh yeah Mouni, suck on that cock. Yes!.. Suck your baby brother dick". I slid my hand on to her chest and explored her breast…….